About Us
Welcome to FudgeHeaven, my name is Gary Davis, and I'm the founder of this sweet paradise.
I'm a Brummie who now lives in Bromsgrove, Worcestershire.
I've been making my totally unique sweet treat Fuffle since around 2000.
Fuffle is the result of an experiment in my home kitchen, where I came up with the original recipe.
It's all my own creation, in between fudge and truffle and I've spent years perfecting it and creating exciting new flavours.
Birth of a Legend
It all began when, one day whilst trying to sell my art at a craft fair, I noticed that (as usual) people were only browsing.
However, nearly everybody had bought something from the sweet stall. So I went home, opened the kitchen cupboards and started throwing a few ingredients together. This resulted in my first ever flavour - "Sam's Utterly Nutterly" peanut butter Fuffle (named after my son as it's his favourite). When I gave some to my friend to try, he suggested making it using Baileys Liqueur.... ...and so began the wild adventure that is Fudgeheaven! I contacted the local council and trading standards to get all of the relevant permissions and guidance and began making it from my home kitchen.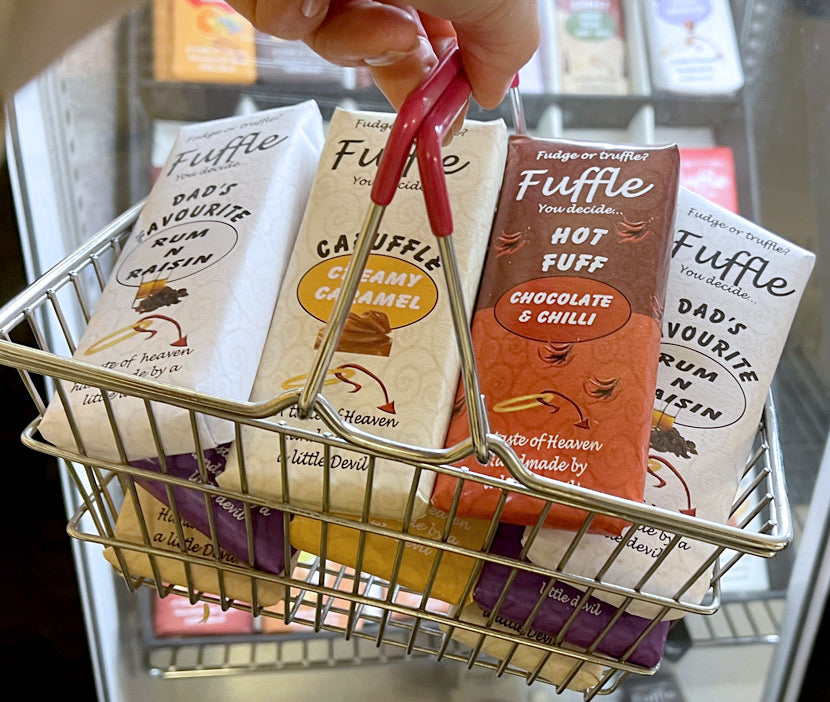 Why did I call it Fuffle?
At first I called it fudge but people kept telling me it wasn't. So I called it truffle instead but people kept saying it's not that either!
So, seeing as the texture is in between Fudge and Truffle, I came up with the word Fuffle. A perfect word to describe it! It also sounded much better than Trudge!! I've added new flavours over the years but the basic recipe and style of making Fuffle hasn't changed.
I have even trademarked both the words Fuffle and Trudge.
Where did Fufflechinos come from?
In about 2012, I made myself a coffee at work but my sweeteners had run out. So I dropped a piece of Baileys Comet Fuffle in my coffee. WOW!
So for the next 10 years, I told people about adding Fuffle to hot drinks and even sold them on my stall at shows. In March 2022, I finally worked out how to present you with Fufflechinos - coffees & hot chocolate pods with a generous helping of Fuffle in them for you to make yourself. Just empty the pod into a mug, add hot water, stir and enjoy. So they're the latest amazing product in my ever growing product line. It's still all handmade, cut and wrapped by me. And I still love it!
COFFEE FUFFLECHINOS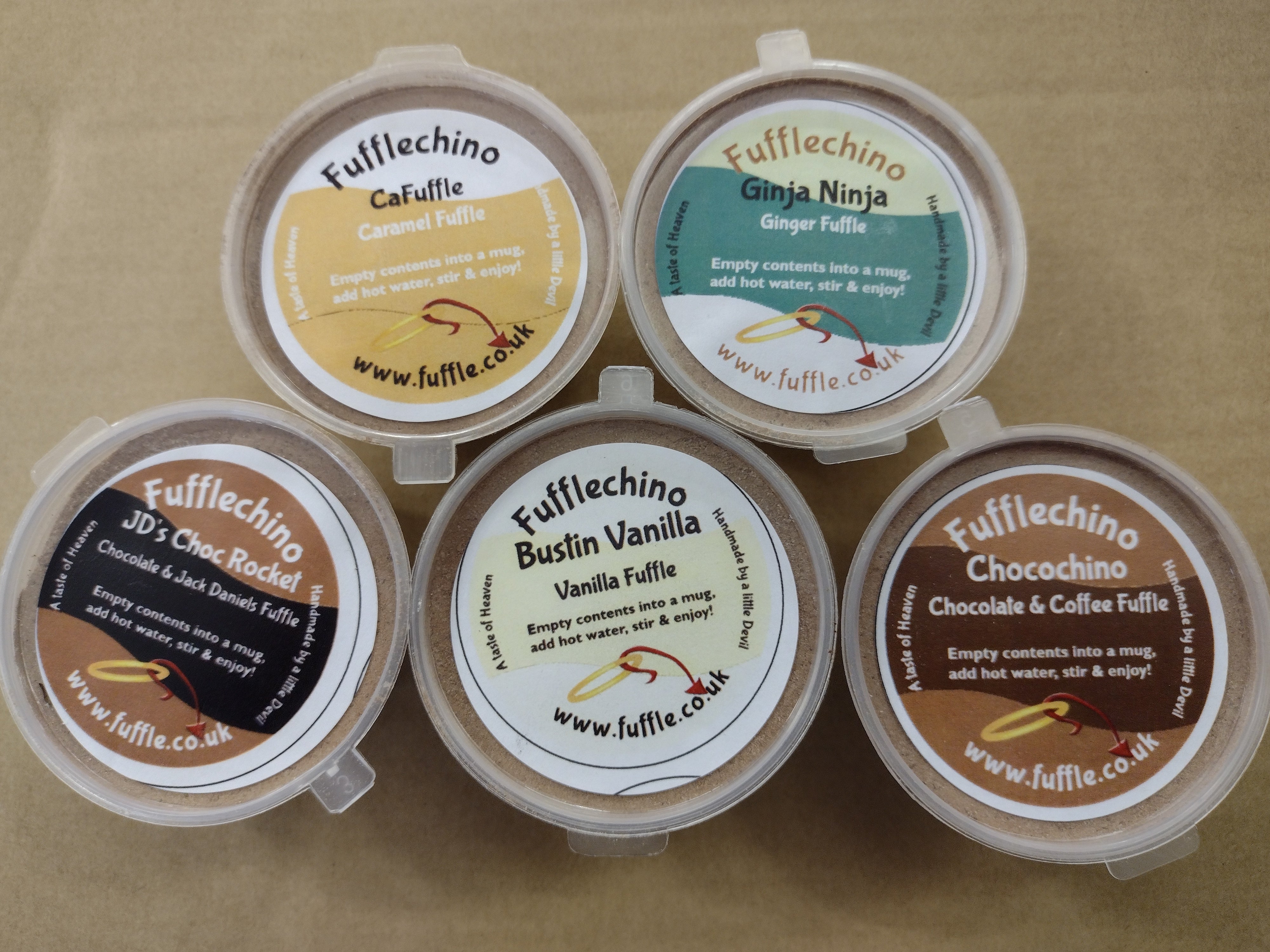 The Future
I have long moved on from making it at home and now have a
custom built kitchen within a unit in Hanbury, Bromsgrove.
You can visit us Monday to Friday (shows permitting) and if you're lucky enough to time it right,
try warm Fuffle as I make it.
Who knows what the future has in stall but, rest assured,
my crazy brain is always plotting something new and different.
VISIT US
One last thing...
Everything you find on this devilishly naughty site has been handmade. With prices and flavours to suit everyone's pocket and taste buds.
So go on, if you're not going to treat yourself, show someone you care with a handmade gift that tastes like HEAVEN....! For lovers of handmade luxury confectionery. Whether you want a small treat for yourself, or a luxury gift for someone, there is something to suit everyone's taste buds and budget.
FUFFLE SHOP